The choice depends on several factors, including the desired aesthetic, durability, and maintenance requirements.
Here are some tips to help you select the right stone for your project:
Determine the project's requirements
Consider the application of the stone, such as whether it will be used for flooring, countertops, or a facade. Different types of stone may be better suited for specific applications.
Choose a stone that complements the project's design
Consider the color, texture, and pattern of the stone in relation to the overall design aesthetic.
Evaluate the stone's durability
Some stones are more durable and better suited for high traffic areas, while others may be more prone to scratching, chipping, or staining.
Consider the maintenance requirements
Some stones require regular sealing and maintenance to protect their surface and ensure longevity.
Work with a reputable supplier
Ensure that you are working with a knowledgeable and reputable supplier who can guide you in selecting the right stone for your project.
Using the right stone in the right area is crucial to the success of any architectural and design project. Besides the practical application of the stone, other factors need to also be considered; by considering these factors and working with a trusted supplier, you can select the right stone for your project that meets your design, durability, and maintenance needs.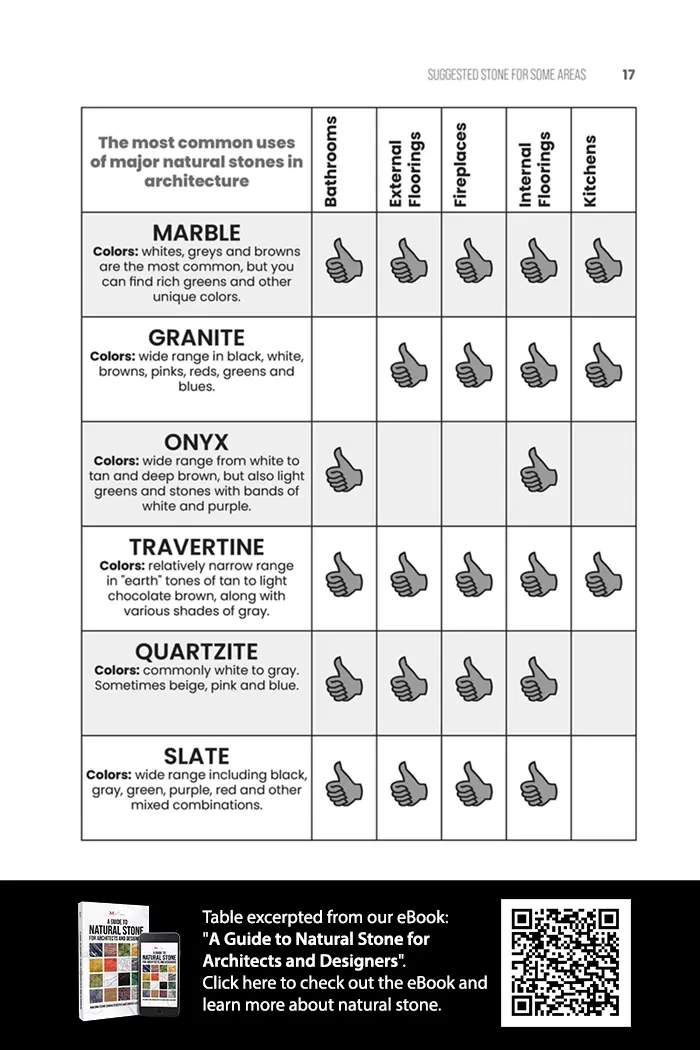 Other factors to consider when choosing natural stone include:
Structural integrity (free of cracks, chips, and other defects that may cause a break)
Choosing a reputable quarry and seller should avoid expensive fractures and loss of material from lower grade or defective stones. Check with your local mason and construction bodies for more information.
Strength or hardness
Generally, the stronger the stone, the more it endures through time and resists changes such as recrystallization, which may cause maintenance problems in later years.
Weight
Most stone is heavier than other building materials. Some stone may not be suitable for second or third story buildings. Cladding may be a better option.
Fire resistance
While most natural stone is highly fire-resistant, intense fires such as wildfires can cause stone to crack and break. Stone with high quartz content is more likely to crack in extremely hot fires.
Water resistance
For areas that require water such as bathrooms and pool areas (or even subject to very high rainfall), the most water-resistant stone would be best suited. These would be natural stone that are nonporous. Sealing of any stone would also be crucial.
Porosity
The greater the porosity, the more likely the stone is to stain or react to acids and other elements. Untreated, it's likely to weather much faster, too.
Availability
As natural stone is limited to operational quarries and recycled stone, your first choice in material may not be available. Some natural rock can mimic another or provide a similar effect, offering viable alternatives.
Environmental impact
It's wise to consider the environmental impact of natural stone structures. Not only can a design be optimized and blend more harmoniously into its environment, but geological and civil engineering errors can be avoided such as unusual subsistence in marsh-prone areas and ancient riverbeds.