Natural stone continues to retain its luster after trending for millenia.
Modern architecture and design now incorporate more natural stone than ever before.
While mention of natural stone architecture instantly recalls the grandeur of ancient Roman villas and the marvels of ancient South American and Asian temple builders, natural stone has always been sheltering us, from the time when homes were caves or stone grottos.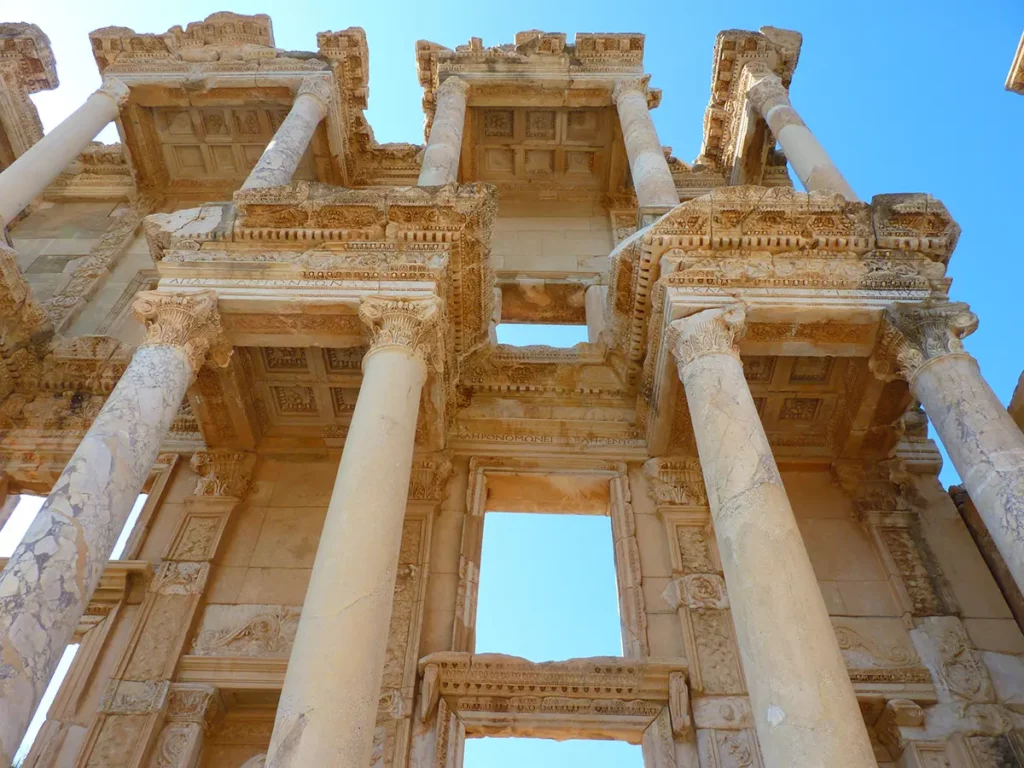 Today, while the process of quarrying stone from the earth remains much the same, natural stone continues to be integrated in high-concept and high-use buildings across the world for many of the same reasons our predecessors chose it.
Why Choose Natural Stone? Why natural stone is better?
With concrete and synthetic stone readily available, natural stone still ticks many of the boxes modern real estate owners and designers seek and often insist on.
Whether or not natural stone is better depends on the specific application and personal preferences. However, here are some reasons why natural stone is usually considered to be a better choice compared to other materials:
Natural Stone has unique beauty
Natural stone is formed over millions of years and each piece has a unique pattern, texture, and color that cannot be replicated by man-made materials.
Natural Stone Lends Harmony or Drama as Desired
Unlike less durable materials such as glass and steel, natural stone merges into most landscapes, follows the play of light, and unobtrusively shelters without causing eyesore. Like wood, but with greater durability and strength, stone triggers emotional responses in us and often imparts a sense of firm security.
At a time when society seeks to reconnect to nature, ground into the earth, and still experience the safety of a solid and impenetrable home, stone is once again the ideal material for both residential and commercial use.
Natural stone invites tactile responses, engaging people in design and their immediate environment:
The cool elegance of marble and granite, the vibrant gem colors of onyx, and the dark traction of slate.
Stone can therefore be as much a sensory experience as it is a visual one.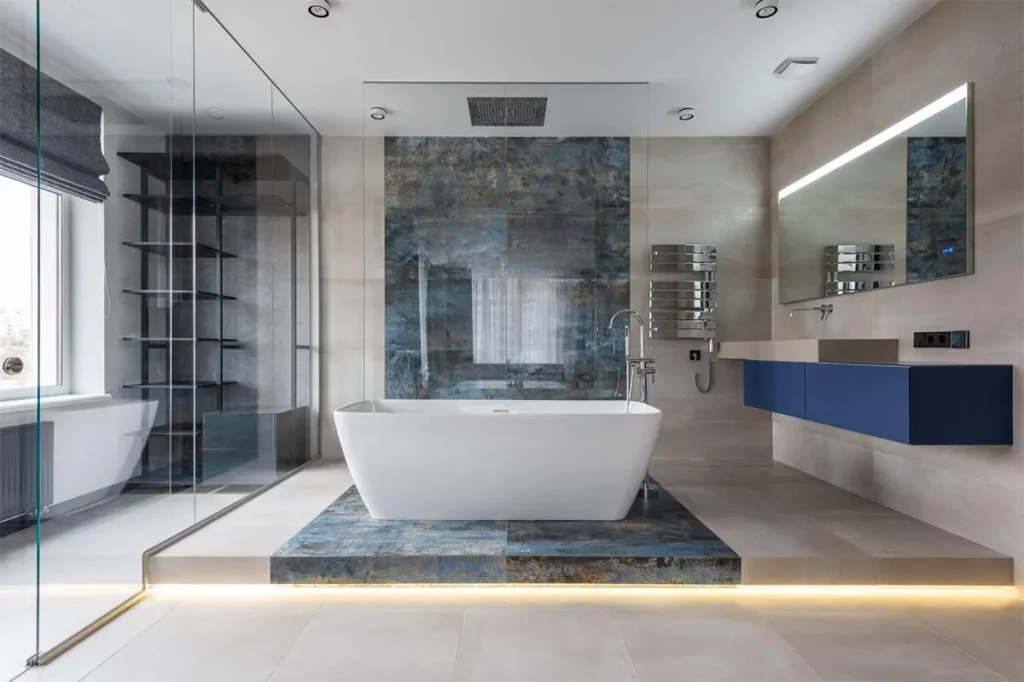 Durability
Most construction-grade natural stone withstands environmental changes, high traffic volumes, fires, and exposure to damp without losing its integrity. Stone elements and surfaces therefore seldom need replacing. Initially high costs are recouped the older the installation or building grows. This, too, brings additional value to the property or creation.
Low to No Wastage of Material
Stone quarrying methods and technologies now enable some quarries to attain zero-waste status while others have a low waste rating. Not only does precision cutting allow for accurate slab production, but the dust and other waste material is often used as material for related products such as fillers, plasters, and related construction use. Every chip of rock, and even the dust, is prevented from going to waste. Smaller waste blocks or those that don't make construction grade can be used to craft, sculpt, or serve as bases for new designs and artwork. There's little to no toxicities present during the quarrying process. Disused stone quarries are therefore easy to repurpose for recreational development or to preserve any unique ecosystems that grew around them.
Sustainability: Natural Stone is recyclable
Time and time again, reclaimed—even looted—stone has been used in the construction of new buildings, from ruins or damaged buildings. Damaged stone constructs or designs can be broken down and used in other decor and construction projects such as mosaic.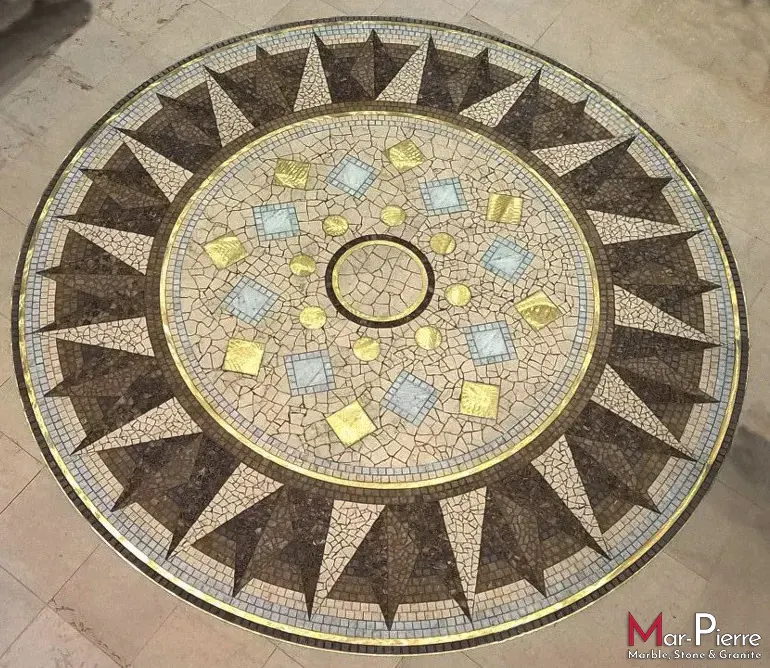 Artistic mosaic made of marble crema marfil, emperador dark, emperador light and brass inserts.
Natural Stone is suitable for various and changing environments
Good Drainage for High Rainfall Areas
One of natural stone's biggest advantages over other construction and design materials is its ability to drain water well—even in high rainfall areas. Not only does it lower the overall cost of the building, but it also lowers the maintenance of the building.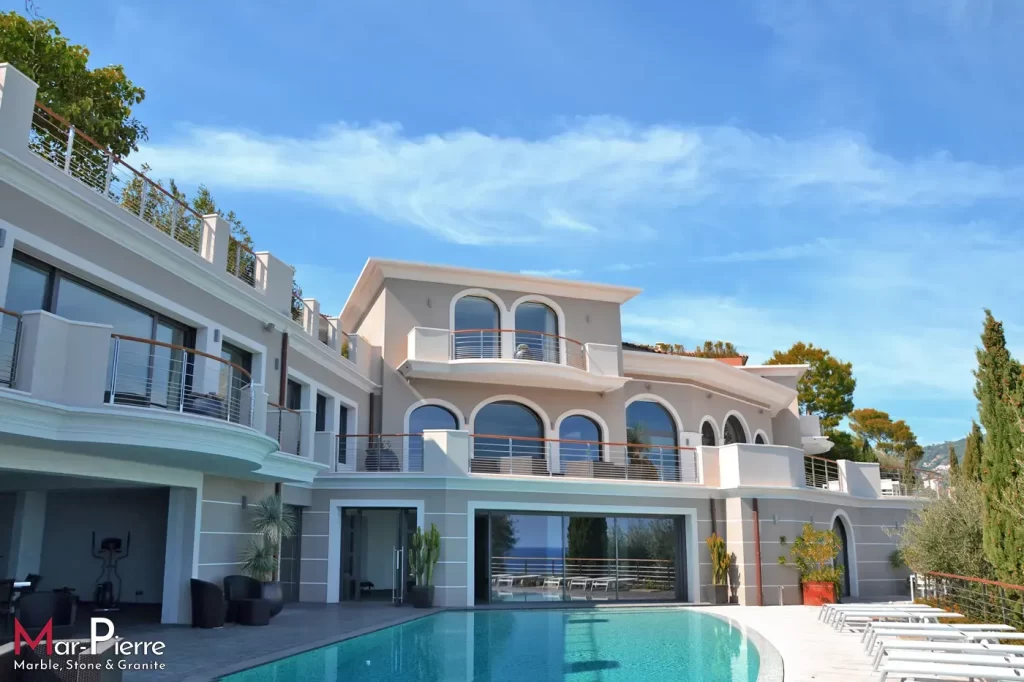 Passive Heating and Cooling by Providing Thermal Mass
Natural stone provides excellent and elegant passive heating and cooling for buildings when due consideration is given during design.
Natural stone readily absorbs radiant heat from the sun and fireplaces, then slowly releases the stored heat once the source is removed, thus passively regulating temperature.
Likewise, shielding natural stone from radiant heat in summer and allowing air to flow through along the installation or walls will passively cool the room or building.
This passive system significantly saves on energy and the need for other less eco-friendly temperature regulations like air-conditioning.
Ages Well and often Looks Better Without Further Investment
Unlike synthetic stone and less durable materials, weathering and aging often enhance the appearance of natural stone. Investing in natural stone as construction or design material can enhance resale values and opportunities effortlessly.
Over time, the unique composition of most natural stone also brings out unforeseen distinctions in color, texture, or even the play of light. These factors contribute to keeping the architecture and designs timeless.
Low-Maintenance
Most natural rock is low-maintenance after installation, regardless of whether it's sited in the exterior or interior of the building. Never requiring paint and seldom requiring expensive specialist chemicals, most nonporous or sealed stones are easily cleaned with nonabrasive detergents and water. Limestone may require sandblasting every half-centenary to centenary, depending on the pollution levels in the environment.
The strength of natural stone also minimizes storm and other event damage that may otherwise be costly to fix in structures made of lower density materials.
Uniqueness Guaranteed: Design Features are Intrinsic
For designers looking for cost-effective ways to produce a wow factor and one of a kind creation, natural stone guarantees it. From polished designs of onyx reminiscent of plants, to mesmerizing lines and fossils of limestone and travertine, each slab of natural rock has something wonderful to reveal, feature, or incorporate with other elements and client demands. All that's needed is the designer's imagination and the architect's expertise.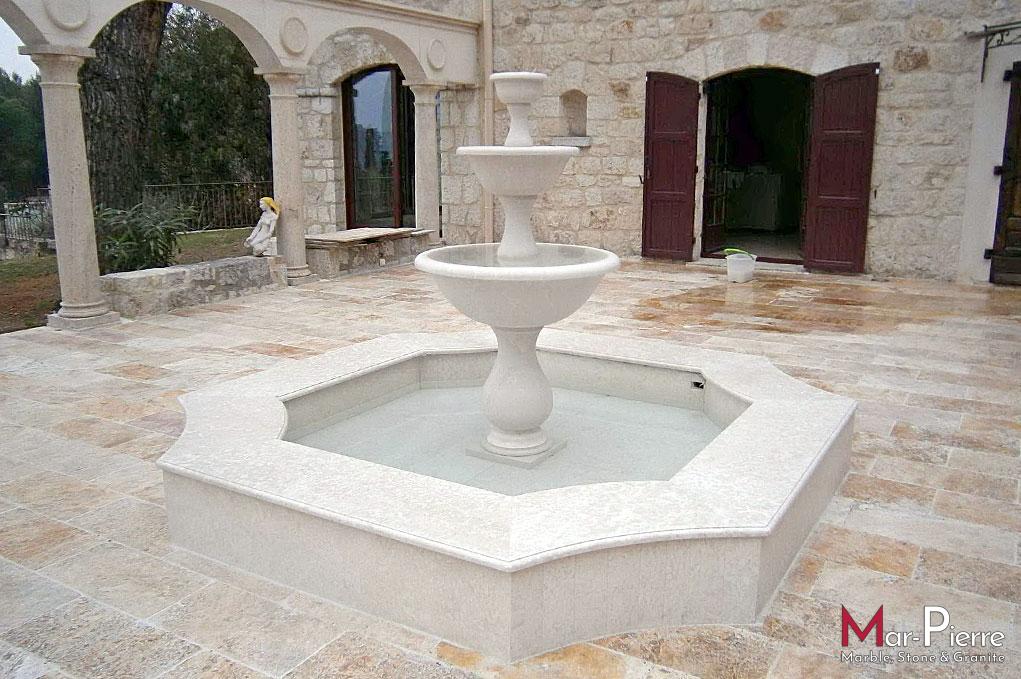 Increased Property Value
Natural stone can increase the value of a property due to its beauty, durability, and longevity. Homeowners who install natural stone features can expect a return on their investment when it comes time to sell their property.
Are you interested in learning more about natural stone?
A guide for stone selection.
Our exclusive eBook, "A Guide to Natural Stone for Architects and Designers," is available for download.